How to Effectively Engage Your Users with Social Media Marketing
With 3.6 billion social media users in the world today (and growing), businesses can no longer afford to ignore this crucial marketing channel. If you own a business, you want nothing more than to connect effectively with your market, bring in more inquiries, and make conversions. When done right, social media marketing is a great way to achieve this, as it helps businesses build relationships with their audiences in order to build trust and keep them updated on their latest products and/or services. Of course, it's important to keep in mind that social media efforts produce the best results when they are included in part of a larger digital marketing and/or multichannel marketing strategy.
Popular Social Media Platforms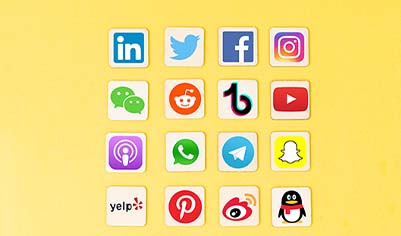 There are many social media platforms out there, and each has its own level of practicality based on your industry and business goals. Some of the most popular ones are Facebook, Instagram, LinkedIn, and Twitter, YouTube, and yes, even Tiktok can help you grow your business!
With over 2 billion active users, Facebook is the largest social media platform in the world, and a great place to promote your business. You can create a page for your company and share updates about your products or services, as well as run targeted ads to reach a more specific audience. You can also create private and public groups in order to build communities around your brand. If your business lends itself well to the camera, Instagram is an image-focused social network that has evolved to benefit business owners as well. You can share images, slides, videos, GIFs, and reels that promote your business and your brand, while creating a following of like-minded users. You can also create targeted ads to generate better quality leads.
For businesses that like to get straight to the point, Twitter is a micro-blogging platform perfect for businesses that want to share quick updates about their products or services. If you can get your brand message out effectively through short and sweet messages, Twitter is a great place to build a following and connect with your target audience. Another all-business platform is LinkedIn, a professional-first networking platform where individuals and businesses can connect and collaborate on projects, recruit staff, share company news, and more. You can create individual and business profiles to help you connect with other people and businesses with similar interests, missions, skills, and connections. You can share or write thought-provoking articles to position yourself as an industry expert and run ads to reach a wider audience.
All these social media platforms are great for businesses, but each one has its own strengths and weaknesses. We recommend hiring a social media expert to help you choose the social media platforms that are best suited for your business, and to help you start building relationships with your ideal customers.
Social Media Marketing Best Practices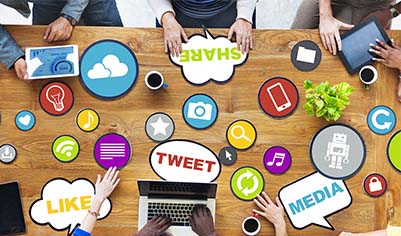 There are a number of concrete ways that social media marketing can help you gain a competitive advantage in your industry. Here are a few ways to help you engage your audience for better results:
Connect with customers on a personal level.

Clients will always find you more approachable when you include your personal insights, because it shows you are human. Social media marketing offers you the perfect opportunity to converse with customers on a more informal basis, and to engage vs. simply inform, helps to nurture their trust in your company and brand.

Keep your audience updated on your products and services.

One of the primary objectives of social media marketing is to keep clients updated about your latest products or services. By keeping your brand and your offerings top of mind, you can build brand loyalty and increase brand awareness. The more your customers see your business name, the more likely they will be to reach out when they need something you provide.

Get feedback from customers and improve your products and services.

Part of the beauty of social media marketing is that it provides a convenient way to get feedback from customers about your products or services. This valuable feedback can help you improve your offers and make your business more successful overall.

Increase brand awareness with consistent messaging.

The more people that are aware of your company and brand, the better. Social media marketing is an excellent way to increase brand awareness and reach more people. By implementing well-executed social media marketing campaigns, you can significantly grow your customer base over time.

Drive targeted traffic to your website or blog.

One of the main objectives of social media marketing is to direct traffic to your website or blog. When customers visit your website or blog, you have the opportunity to convert them into paying customers. By using social media marketing correctly, you can funnel many visitors to your website or blog and boost your sales in the process.

Create a strong community around your brand.

Social media marketing offers you the opportunity to create a community of like-minded individuals around your brand. This helps to strengthen the bond between your company and customers, and encourages them to stay loyal to your brand in the long run.

Get valuable insights about competitors.

Competitor analysis is an important part of any successful business strategy. By using social media marketing correctly, you can gain insights into what your competitors are doing right and where they are going wrong. You can then use this information to improve or adapt your offerings, as well as your approach to engaging with your audience.

Join important conversations about your industry.

Social media marketing also allows you to join in on important conversations that are taking place around your industry. This helps to position you and your business as a thought leader in the minds of potential customers, which can translate into more sales over time.

Find new influencers who will promote your business for free.

By using social media marketing correctly, you can find new influencers who will promote your brand for free on their channels. When someone with a large following positively promotes your brand to their fan base — simply because they love your brand — it can have a big impact on your business.
The Power of Social Media Marketing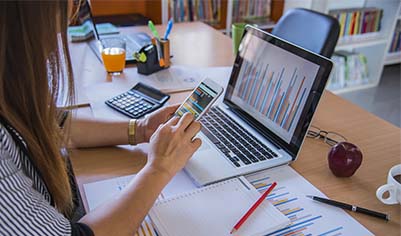 When used strategically, social media marketing can be an extremely powerful tool for any business. Never underestimate the power of an active community that is bound together by a love for a brand. The people who love and believe in your products and services are more likely to recommend you to their family and friends, which means increased business for you, simply due to brand loyalty.
If you want to begin growing your business with social media marketing, you need to take a step in the right direction. Get in touch with one of today's leading social media marketing experts, Smile MEDIA, and make the best decision you've ever made for your business today.