The Power of

Magento

eCommerce Development
Why choose Magento? Developing eCommerce websites with Magento allows for a simple and seamless digital shopping experience for your customers. Because Magento is backed by such an expansive support network, the platform provides seemingly endless extensions and flexibility to customize your website to meet your eCommerce needs as your business grows.
eCommerce Integrations
In addition to our expansive eCommerce solutions offered, we can also integrate your existing applications into your new ecommerce solution with ease and efficiency. Our eCommerce solutions are easily integrated with an expansive list of popular 3rd party enterprise solutions, including:
Contact us for additional information or questions about our eCommerce integrations.
Magento Integration with
Magento+ SAP Integration
Magento + LightSpeed Integtration
Magento + Odoo Integration
Magento + Sage integtration
Magento CRM integration
Magento ERP integration
Magento QuickBook Integration
Magento Marketing tools integration
Magento MarketPlace integration
Magento Third Party API Integration
Magento Avalara integration
Magento Akeneo Integration
Magento OROCRM Integration
Magento PIMS integration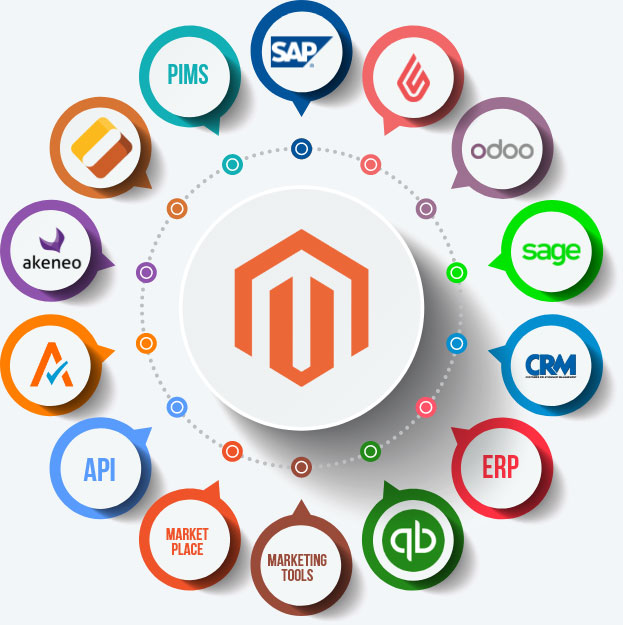 Magento Migration

Services

Migrating from one eCommerce website to another can be a complex process. However, with the right technology partner, it can be a seamless and efficient transition. At Smile MEDIA, our team of eCommerce experts is capable of migrating your website to a better platform - Magento 2.
Migrating from Another Platform

Are you already using an eCommerce solution, but looking to switch to a more powerful platform? We offer eCommerce migration solutions to help you migrate your existing website to the latest version of Magento - Magento 2.

Migrating from Magento 1 to Magento 2

Are you currently operating your eCommerce website on Magento 1? Support for Magento 1 ends in June 2020, which means the time to migrate to Magento 2 is now. Smile MEDIA can help you migrate your eCommerce website to the latest version of Magento, so you can ensure your website is fully supported and secure.
Are you looking to migrate your eCommerce website to the latest version of Magento? Contact Us. today.
Related Digital Services
Smile MEDIA offers a variety of additional services related to eCommerce development and design. We are a full-service digital development agency with locations in Boston, MA, Exeter, NH, and Dover, NH. If you are looking for web development services, mobile app development, or digital marketing services, we'd love to hear from you.