About the Project
MotorcycleRoads.com (McR), a free online motorcycle trip planning service, initially came to Smile MEDIA for help with some simple website functionality issues they were having. Our team of experienced developers worked with McR to rebuild and refresh their website, using advanced technology to ensure an intuitive and interactive user experience - on any device.
Smile's development team began by fixing all of the code errors and writing new code in HTML5. From there, we performed keyword analysis and made several SEO updates with the goal of increasing the website's visibility.
Smile MEDIA also used gamification technology to create a points-based system, where users can earn points for their contributions to the McR community, which they can apply to future contests and prizes. Each user also has the ability to create their own, personalized Motorcycle Garage profile, where they can post pictures and videos of their motorcycle and rides to share with the McR community of riders.
Since we began working with McR in 2014, the average monthly visitors have increased significantly. In addition, they have far exceeded the competition in search traffic volume, with 500K+ avg. monthly page views, a 40% growth in users/month, and a consistent ranking in the top search results for the keywords "motorcycle roads," "motorcycle trips," and "motorcycle rides."
Featured Services
Enhanced Mobile/Responsive Website Design
Developed Dynamic Maps/Custom Routes
Introduced Gamification (MCR Points)
Enabled Multiple-Event Scheduling
Implemented Google DoubleClick for Publishers (DFP)
Integrated Google Analytics
Technology
Drupal 8
HTML5
CSS
AWS S-3 File Storage

Challenges
An outdated website platform and lack of regular maintenance caused the McR website functionality to stop working as it was originally designed. Upon reviewing the website development code, Smile MEDIA identified several bugs, security flaws, and past-due updates that were preventing the site from working properly.

Solutions
The updated website is built with Drupal 8, using HTML5, CSS, and AWS S-3 file storage. Enhancements include the design and development of a cleaner user interface, user-friendly navigation, search capability, multiple-event scheduling an enhanced mobile experience, and a more aesthetically pleasing overall design.

Impact
Enhanced User Interaction
Increased session duration by 30%
Reduction in bounce rate to 54%
10M+ New Users on website
Goal Optimization
Enhanced Trip planning by 20%
10K+ Subscribers List
1.5X CTR Improvement
Technical Health of Website
Google tag manager integration
A+ website speed score
Responsive website for any device
Organic SEO
Website Ranking For over 1,000
Keywords On 1st Page
Average Keyword Rank Across 1,000 of
Keywords is 18.
40% Growth in Organic Traffic
100K+ Monthly Bike Trip Planners
Significant increase in:
User Engagement
Ad revenue
Search Visibility
Site Stability
Site Usability
The site is now operating on a very modern, stable, scalable, and "future-proof" technical foundation that is also used by some major corporations around the world. Smile MEDIA's web development expertise and experience really came through on this project!
STYLE GUIDE
The main colors of the website are driven primarily from the colors of the logo, while also meant to invoke thoughts of the outdoors. The deep red and dark gray colors complement the scenic roads and interactive maps used throughout the website.
Font
Montserrat

By Google Font
Colors
#F2F6F8

#000000

#666666

#7E7E7E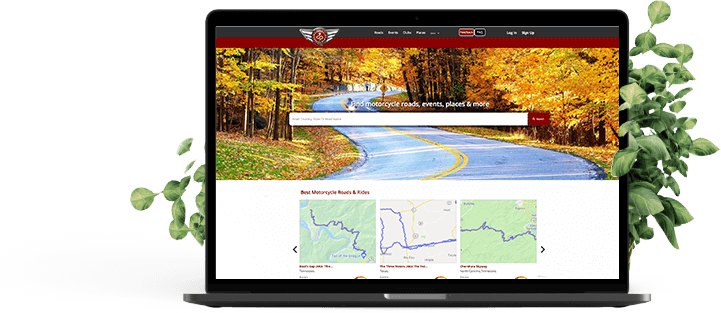 TELL US ABOUT YOUR PROJECT