The Seacoast Board of Realtors is a reputable trade association representing over 900 REALTORS® and Affiliate members in the New Hampshire area. With a primary service area spanning across multiple towns and counties, including Brentwood, Exeter, Portsmouth, and Rye, their influence extends throughout Rockingham County and parts of New Hampshire and Maine. They came to Smile MEDIA wanting to completely revamp their website with the goal of enhancing the user experience and enabling easy self-administration.
We began with a comprehensive redesign process, ensuring a modern and visually appealing website that aligned with the Seacoast Board of Realtors' brand identity. We also created cohesive branding across their social media channels, including Facebook and Twitter, to maintain consistency with the main website.
To help increase the site's visibility, our team conducted thorough keyword research and optimized page titles and descriptions for improved search engine visibility. A meticulous technical site audit was conducted to identify and rectify any underlying issues, resulting in a smoother and more efficient user experience. We implemented Google Search Console to monitor the website's performance, track keyword rankings, and optimize search visibility. 
Additionally, integrating Google Analytics provided valuable insights into user behavior, traffic sources, and engagement metrics, empowering the Seacoast Board of Realtors with data-driven decision-making.
Finally, we assisted in refining and enhancing the website's content, ensuring it effectively communicated the organization's offerings and values. 
Featured Services/Functionality
Site Design and Development
Social Media Branding
Search Engine Optimization (SEO)
Technical Site Audit and Updates
Copywriting and Content Creation
Google Search Console
Google Analytics

Challenges
The Seacoast Board of Realtors faced several challenges with their existing WordPress website. They found it difficult to update and manage due to limited training and configuration complexities. Additionally, their site structure required attention to ensure easy navigation for users. As a member-based organization, its primary focus was on providing easy access to essential information rather than ranking at the top of search engine results. They sought ongoing support, including hosting services, to maintain a reliable online presence.

Solutions
We implemented a comprehensive solution set to address the challenges faced by the Seacoast Board of Realtors. We began by transitioning their website to a user-friendly content management system (CMS) that allowed for effortless updates and self-administration. 
Next, the website was completely redesigned with a modern and visually appealing interface, showcasing the professionalism and credibility of the Seacoast Board of Realtors. We developed a mobile-responsive website that ensured a seamless browsing experience across various devices, catering to the growing number of mobile users. Our team optimized the site structure, ensuring that crucial sections like Member Login, Become A Member, Upcoming Events, and News were easily accessible within just two clicks. Additionally, the integration of Google Analytics provided valuable insights into user behavior, traffic patterns, and website performance, enabling data-driven decision-making for future optimizations.
Finally, we designed social media covers that mirrored the main website's branding, establishing a consistent and professional online presence across platforms.

Impact
The website redesign and development project brought about significant improvements for the Seacoast Board of Realtors, including:
Streamlined User Experience The enhanced site structure and intuitive CMS empowered the organization to easily update and manage website content, reducing reliance on external support.

Consistent Branding The unified branding across the main website and social media channels reinforced the Seacoast Board of Realtors' professional image, fostering trust and recognition among their audience.

Improved Navigation Users can now effortlessly find important information within just a few clicks, enhancing their overall experience and satisfaction.

Mobile Responsiveness The mobile-responsive design ensures a seamless browsing experience for users on smartphones and tablets, catering to their evolving preferences.

Enhanced Online Presence With a visually appealing and user-friendly website, the Seacoast Board of Realtors can effectively engage with their members and provide easy access to resources, strengthening their position as a trusted trade association.
STYLE GUIDE
Seacoast Board of Realtors needed a website that portrayed a sense of trust, community, and collaboration. We chose shades of blue and white to help showcase their expertise and authority on all things real estate and chose imagery to back up their commitment to the communities they serve. We also designed a simple but compelling logo to represent the organization clearly and to match the new color palette, proving a consistent brand experience throughout the website and everywhere online.
Font
IBM Plex Serif

By Google Font

Libre Franklin

By Google Font
Colors
#3569B2

#1F2D57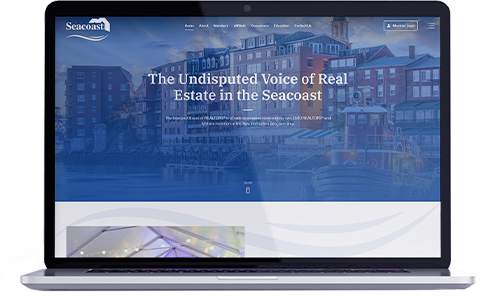 At Smile MEDIA, we are proud to have partnered with the Seacoast Board of Realtors to transform their online presence and deliver a website that aligns with their goals and requirements. By combining our expertise in website design, development, and digital marketing, we were able to provide a tailored solution that enhances user experience, simplifies content management, and reflects the professionalism of the Seacoast Board of Realtors. Contact Smile MEDIA today if you are looking for website design, development, or digital marketing solutions.