About the Project
Zup.events sought to create an online place where residents of the greater NH Seacoast area could find out "what's ZUP" in the Seacoast area. They came to us looking to build an enhanced customer experience for an audience of entertainment enthusiasts and fun-seekers, by presenting the area's best options for movie theaters and live theater, workshops, holiday happenings, festivals, and much more.
Smile MEDIA was tasked with presenting a variety of events and activities happening in the area on a digital platform that intuitive and easy to navigate. Additionally, the platform needed to be designed with mobile, tablet, and desktop users in mind, making it simple and accessible from any device. Zup.events also wanted users to be able to get directions, add events to their personal calendars, purchase tickets and/or subscriptions, and more.
We ultimately built a website to manage and promote local events in and around the seacoast of NH, with a long-term interest to expand this footprint. The site's monetization model is designed to ensure event hosts can promote their listings within the site, which required search engine indexability of all event traffic. SEO considerations included schema.org for restaurants and places, adaptive meta page descriptions, smart URLs, adaptive alt tags for images, and breadcrumbs, with an emphasis on event name, location, and event type directory listings.
As a result, Smile built a calendar functionality with multiple views (map and list view), location search, featured events, recurring events, and filtering capabilities. The site also allows for selling tickets and collecting RSVPs, with event tickets functionality, enabling users to purchase tickets from anywhere, with a built-in mobile ticketing app. This application allows for robust ticket management including ticket stock countdown and custom ticket tiers, on-site event management, ticket insights and reporting, attendee-only content and online events.
In addition, the site allows for automated event importing, where events are automatically imported into to the calendar, making it easy to add events from third-party sources. Community submissions functionality was also built in, which enables third-party event submissions and ticketing. Finally, to increase event attendance and keep events hosts connected to their audience, the site also features notification management functionality.
Featured Services / Functionality
Responsive Blog Design
Google Maps for Location
Ad Manager & AdSense
Event Calendar
Advertising & Event Promotion
User Registration
Newsletter Subscription
Ticket Purchasing
Membership Subscriptions
Industry
Event
Entertainment
Traveling
Technology
WordPress CMS
GTM
Bootstrap Framework
Woo Commerce
PHP / MySQL
Yoast For SEO
NGINX Web Server

Challenges
Building a highly interactive online platform requires a substantial amount of advanced technology to allow for users to purchase e-tickets, register for online and live events, subscribe for updates, and more. Allowing users to add events to their Google Calendar and allowing for iCal export was also a necessary and complex feature.

Solutions
Smile MEDIA built the website with WordPress to keep it affordable while keeping it easy for the client to manage without a large investment. The result is a robust and interactive website built to keep Zup's audience updated with the latest local happenings in food, entertainment, arts, and everything in between. The website also complies with all SEO best practices, which allows for high quality traffic from nearby residents and travelers.

Impact
Zup.events has succeeded in becoming a popular online place to browse deals on entertainment, arts, and other activities in the Seacoast area and beyond. The website makes it easy to find events nearby, to be in the know about the latest deals at all time, the latest shows and offers.
Within the first few months of the website launch, the client is averaging a search position of 6 for many popular related search terms without any additional support.
STYLE GUIDE
The theme we selected for Zup.events is minimalistic, as we wanted the audience to focus solely on upcoming events and deals, without being distracted by a complex design.
Font

Colors
#E60023

#393939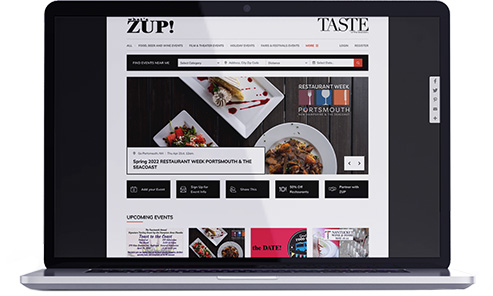 TELL US ABOUT YOUR PROJECT